Grex: A Decentralized Hive Mind
Abstract
Swarm Robotics (SR) faces a series of challenges impeding widespread adoption for real-world applications. Distributed Ledger Technology (DLT) has shown it can solve a number of these challenges. An experiment was conducted to showcase the resolution of these challenges. A search and rescue mission was simulated using drones coupled with single board computers and several simulated agents. Inter-agent communications were facilitated through DLT in a completely decentralized network. A frontend interface was built to demonstrate the ease with which information can be extracted from the system. This paper shows the feasibility of the application of DLT to SR-related challenges in a practical experiment. For future work, it is proposed to focus on more complex tasks through federated learning or inter-swarm communications, possibly through Cosmos.
References
Barca, J. C., Sekercioglu, Y. A. "Swarm Robotics Reviewed." Robotica 31.3 345–359 (2013) https://doi:org/10:1017/S026357471200032X.
Bennett, C. "Swarm Bots Could Shift Ag History." (2018) (accessed 9 March 2019) https://www:agweb:com/article/swarm-bots-could-shift-ag-history-naa-chris-bennett/.
Brakeville, S., Perepa, B. "Blockchain Basics: Introduction to Distributed Ledgers." (2018) (accessed 9 March 2019) https://www:ibm:com/developerworks/cloud/library/cl-blockchain-basics-intro-bluemix-trs/index:html.
Buchman, E. "Tendermint: Byzantine Fault Tolerance in the Age of Blockchains." PhD Thesis, University of Guelph (2016) http://hdl:handle:net/10214/9769.
Calvaresi, D., Dubovitskaya, A., Calbimonte, J. P., Taveter, K., Schumacher, M. "Multi-Agent Systems and Blockchain: Results from a Systematic Literature Review." In Y. Demazeau, B. An, J. Bajo, A.
Fernández-Caballero (Eds.), Advances in Practical Applications of Agents, Multi-Agent Systems, and Complexity: The PAAMS Collection Springer 110–126 (2018) https://doi:org/10:1007/978-3-319-94580-49.
Cameron, A., Payne, M., Prela, B. "Research and Implementation of Multiple Blockchain Byzantine Secure Consensus Protocols for Robot Swarms." (2018) Unpublished research (accessed 9 March 2019) https://courses:csail:mit:edu/6:857/2018/project/Cameron-Payne-Prela-ByzRobSwarm:pdf.
Castelló Ferrer, E. "The Blockchain: A New Framework For Robotic Swarm Systems." arXiv (2016) (accessed 9 March 2019) http://arxiv:org/abs/1608:00695.
Castelló Ferrer, E., Rudovic, O., Hardjono, T., Pentland, A. "RoboChain: A Secure Data-Sharing Framework for Human-Robot Interaction." arXiv (2018) (accessed 9 March 2019) http://arxiv:org/abs/1802:04480.
Disse, T. "Envisioning (and Building!) a New Way to Program Robots Using Blockchain – Meet Grex.ai." (2018) (accessed 9 March 2019) https://medium:com/kryha/envisioning-and-building-a-new-way-to-program-robots-using-blockchain-meet-grex-ai-c9d94a8609ed.
Etherchain "Etherchain - The Ethereum Blockchain Explorer." (2018) (accessed 4 October 2018) https://www:etherchain:org/.
Ethereum "Proof of Stake FAQs." (2018) (accessed 9 March 2019) https://github:com/ethereum/wiki/wiki/Proof-of-Stake-FAQs.
Kang, C.-K. "Marsbee - Swarm of FlappingWing Flyers for Enhanced Mars Exploration." (2018) (accessed 9 March 2019) https://www:nasa:gov/directorates/spacetech/niac/2018 Phase I Phase II/Marsbee Swarm of Flapping Wing Flyers for Enhanced Mars Exploration/.
Konecný, J., McMahan, H. B., Yu, F. X., Richtárik, P., Suresh, A. T., Bacon, D. "Federated Learning: Strategies for Improving Communication Efficiency." arXiv (2016) (accessed 9 March 2019) http://arxiv:org/abs/1610:05492.
Kwon, J., Buchman, E. "Cosmos: A Network of Distributed Ledgers." Cosmos (2016) Whitepaper (accessed 9 March 2019) https://cosmos:network/whitepaper.
Lundbæk, L.-N., Beutel, D. J., Huth, M., Jackson, S., Kirk, L., Steiner, R. "Proof of Kernel Work: A Democratic Low-Energy Consensus for Distributed Access-Control Protocols." Royal Society Open Science 5.8 180–422 (2018) https://doi:org/10:1098/rsos:180422.
McConaghy, T. "And We're Off to the Races!" (2018) (accessed 9 March 2019) https://blog:bigchaindb:com/and-were-off-to-the-races-1aff2b66567c.
Nakamoto, S. "Bitcoin: A Peer-to-Peer Electronic Cash System." (2008) (accessed 9 March 2019) https://bitcoin:org/bitcoin:pdf.
No Author. "Rolls-Royce and SWARM Robots." (2018) (accessed 9 March 2019) https://wyss:harvard:edu/media-post/rolls-royce-and-swarm-robots/.
Pregelj, J. "A CRAB-based ORM for BigchainDB." (2017) (accessed 9 March 2019) https://blog:bigchaindb:com/crab-create-retrieve-append-burn-b9f6d111f460.
Strobel, V., Castelló Ferrer, E., Dorigo, M. "Managing Byzantine Robots via Blockchain Technology in a Swarm Robotics Collective Decision Making Scenario." In Proceedings of the 17th International Conference on Autonomous Agents and MultiAgent Systems Richland, SC: International Foundation for Autonomous Agents and Multiagent Systems 541–549 (2018) http://dl:acm:org/citation:cfm?id=3237383:3237464.
Wood, G. "Ethereum: A Secure Decentralised Generalised Transaction Ledger." (2017) Ethereum project yellow paper, revision 1e18248, (accessed 9 March 2019) http://ljk:imag:fr/membres/Jean-Guillaume:Dumas/Enseignements/ProjetsCrypto/Ethereum/ethereum-yellowpaper:pdf.
Zhao, H. "Bitcoin and Blockchain Consume an Exorbitant Amount of Energy. These Engineers Are Trying to Change That." CNBC (2018) (accessed 9 March 2019) https://www:cnbc:com/2018/02/23/bitcoin-blockchain-consumes-a-lot-of-energy-engineers-changing-that:html.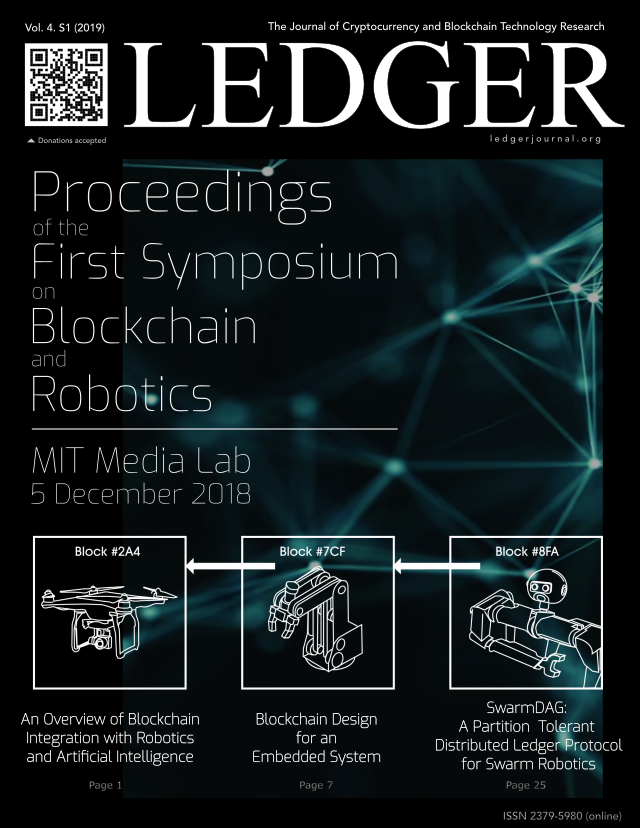 Downloads
How to Cite
Khawalid, A., Acristinii, D., van Toor, H., & Castelló Ferrer, E. (2019). Grex: A Decentralized Hive Mind. Ledger, 4. https://doi.org/10.5195/ledger.2019.176
License
Authors who publish with this journal agree to the following terms:
The Author retains copyright in the Work, where the term "Work" shall include all digital objects that may result in subsequent electronic publication or distribution.
Upon acceptance of the Work, the author shall grant to the Publisher the right of first publication of the Work.
The Author shall grant to the Publisher and its agents the nonexclusive perpetual right and license to publish, archive, and make accessible the Work in whole or in part in all forms of media now or hereafter known under a Creative Commons Attribution 4.0 International License or its equivalent, which, for the avoidance of doubt, allows others to copy, distribute, and transmit the Work under the following conditions:

Attribution—other users must attribute the Work in the manner specified by the author as indicated on the journal Web site;

with the understanding that the above condition can be waived with permission from the Author and that where the Work or any of its elements is in the public domain under applicable law, that status is in no way affected by the license.
The Author is able to enter into separate, additional contractual arrangements for the nonexclusive distribution of the journal's published version of the Work (e.g., post it to an institutional repository or publish it in a book), as long as there is provided in the document an acknowledgement of its initial publication in this journal.
Authors are permitted and encouraged to post online a prepublication manuscript (but not the Publisher's final formatted PDF version of the Work) in institutional repositories or on their Websites prior to and during the submission process, as it can lead to productive exchanges, as well as earlier and greater citation of published work. Any such posting made before acceptance and publication of the Work shall be updated upon publication to include a reference to the Publisher-assigned DOI (Digital Object Identifier) and a link to the online abstract for the final published Work in the Journal.
Upon Publisher's request, the Author agrees to furnish promptly to Publisher, at the Author's own expense, written evidence of the permissions, licenses, and consents for use of third-party material included within the Work, except as determined by Publisher to be covered by the principles of Fair Use.
The Author represents and warrants that:

the Work is the Author's original work;
the Author has not transferred, and will not transfer, exclusive rights in the Work to any third party;
the Work is not pending review or under consideration by another publisher;
the Work has not previously been published;
the Work contains no misrepresentation or infringement of the Work or property of other authors or third parties; and
the Work contains no libel, invasion of privacy, or other unlawful matter.

The Author agrees to indemnify and hold Publisher harmless from Author's breach of the representations and warranties contained in Paragraph 6 above, as well as any claim or proceeding relating to Publisher's use and publication of any content contained in the Work, including third-party content.
The Author agrees to digitally sign the Publisher's final formatted PDF version of the Work.
Revised 7/16/2018. Revision Description: Removed outdated link.